There are not many artists that you can just put anywhere. Regardless of the location, regardless of the event or occasion, regardless of the expectations of the guests. But still … there is at least one person you can put anywhere: Rick THE TERRACE Singer.
Specialty? Yes everything! We call it 'Especially for Everyone'.
In musical terms you talk about a 'creative all-rounder' or centipede (in this case with 2500 legs), a versatile artist, and that is Rick D. TERRACE Singer par excellence.
.
No better way to give your terrace a big run-up and turnover: live music. Not too loud, but enough to create a nice and cosy atmosphere. With a very diverse repertoire and the opportunity to request songs. Small in design and big in effect.
Rick D. TERRACE Singer creates a FULL terrace with guests who stay long to enjoy, eat and drink. The cozy atmosphere invites and will make visitors come back. So; make it a weekly recurring afternoon!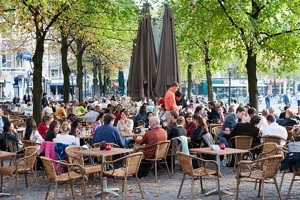 P.S. Did you know that Rick performed every week in Domburg and the surrounding area for many years during the spring and summer months. And also on the terraces of various beach cafés in Zeeland: beach + terrace + live music = more guests and extra turnover.
.
.